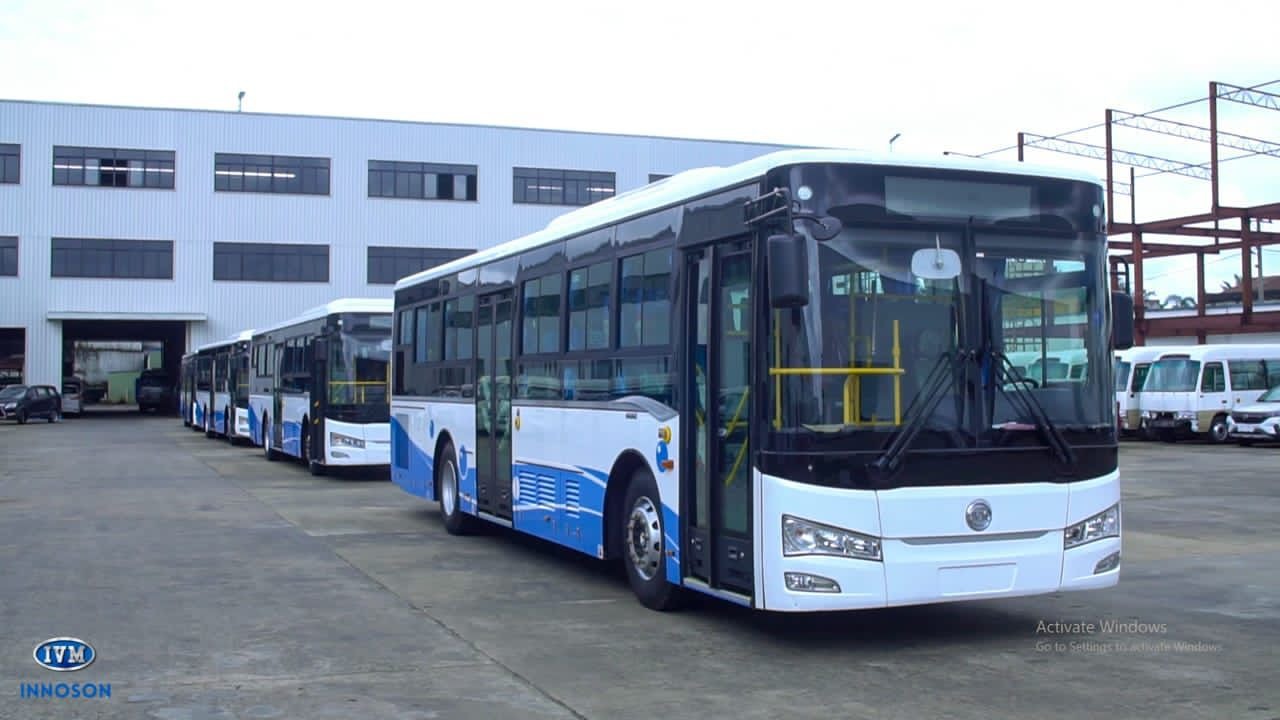 As we journey into the future of transportation, Innoson Vehicle Manufacturing (IVM) persistently pioneers with effective, spacious, and eco-friendly mobility alternatives. Today, we're highlighting a transformative innovation in public transit – the IVM 6110A. This Compressed Natural Gas (CNG) bus with a 100-passenger capacity is making remarkable progress in the realm of green energy vehicles.
The IVM 6110A is a revelation in sustainable transport, built with an unwavering commitment to comfort, safety, and environmental responsibility. With a carrying capacity of 100 passengers – 55 seated and 45 standing, this bus is designed to handle the hustle and bustle of city commuting while providing the utmost comfort to its passengers.
At the heart of the IVM 6110A lies the 8.3L Cummins Engine EQC300, a bifuel engine that can run on both diesel and Compressed Natural Gas (CNG). This feature gives the bus the advantage of cleaner emissions, lower fuel costs, and extended engine life.
The luxury seats installed in the bus add an element of comfort that sets it apart from the usual public transportation. They are designed to ensure that even the longest commutes will not compromise the comfort of the passengers. This level of luxury is further augmented by a fully air-conditioned interior, offering passengers a refuge from the heat outside.
A significant aspect of the IVM 6110A's design is the inclusion of front and rear automated doors. This functionality not only provides convenience and efficiency but also enhances safety by reducing the chance of passenger mishaps during ingress and egress.
Further enhancing passenger experience, the IVM 6110A comes with a built-in multimedia system. This feature allows passengers to enjoy audio-visual content during their ride, making the journey as enjoyable as the destination.
Ensuring the safety of its passengers and drivers alike, the IVM 6110A is equipped with a reverse alarm switch. This feature alerts pedestrians and other road users when the bus is backing up, thereby reducing the likelihood of accidents. Complementing this is an Air Braking System (ABS) that provides more control and stability to the bus, especially during sudden stops, making it a safer choice for all kinds of road conditions.
The Innoson 100 seater capacity CNG Bus, IVM 6110A, stands as a testament to Innoson's commitment to sustainable, comfortable, and safe public transportation. It's more than just a bus; it's a revolution in public transport, paving the way towards a greener, more sustainable future, without compromising on comfort and safety. Experience the future of public transportation today with the IVM CNG Bus.
For inquiries and purchases kindly send us a mail at sales@innosonvehicles.com.
Author: Choice Arukwe