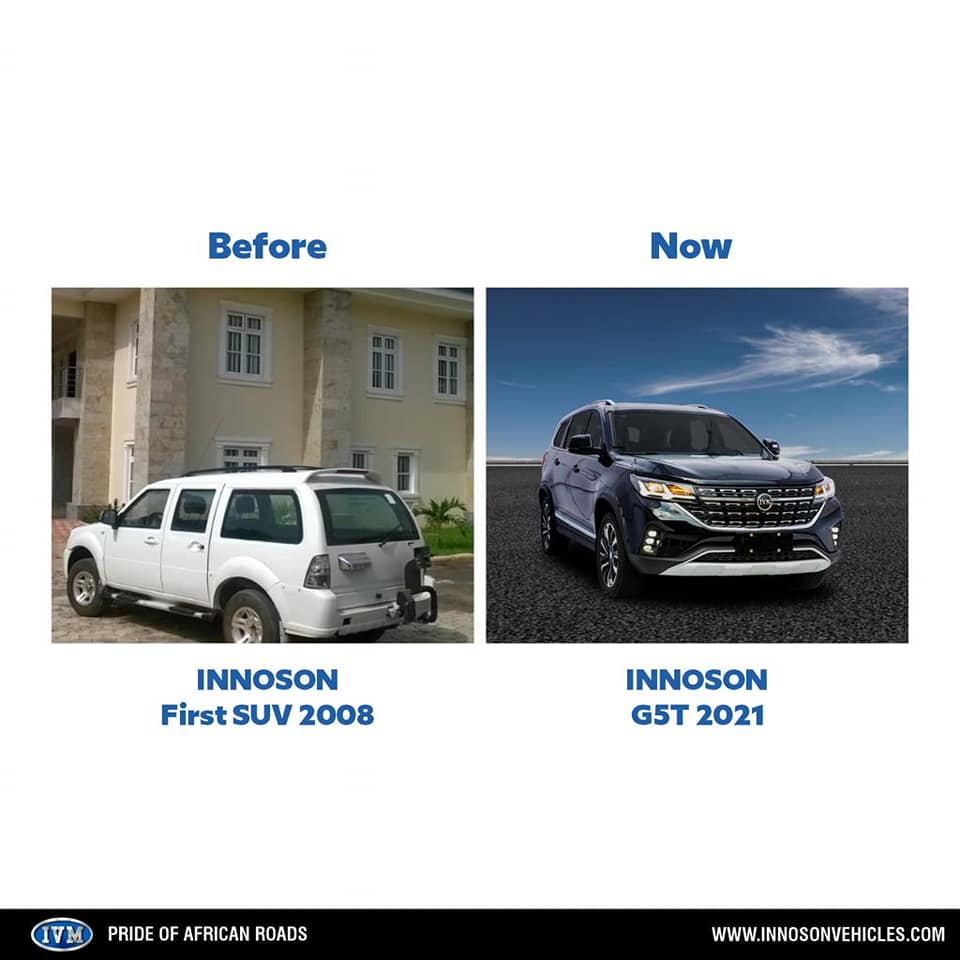 Before Innoson Vehicles was commissioned in 2010, over 30,000 brand new cars sold in Nigeria were all imported. At the time, there was no functional vehicle manufacturing or assembly plant in Nigeria producing these cars.
Yet, out of guts, faith and hope, Innocent Chukwuma decided to venture into vehicle manufacturing, becoming the first to produce a made in Nigeria vehicle that will be named Innoson.
This is not the first time Innoson has decided to braze the trail by producing a Made in Nigeria automotive product.
In 2000, Innoson decided to start the manufacturing and assembly of the Innoson Brand of motorcycles and made huge success out of it. Innoson Nig Ltd became the first indigenous and biggest assemblers and manufacturers of motorcycles.
More so, Innoson ventured into the manufacturing of plastic automotive products by establishing a plastic manufacturing plant- Innoson Tech. & Industries Co. Ltd Enugu reputed to be largest plastic manufacturing company in West Africa with over 150 lines of products which includes; Plastic automotive products, High Quality Household and Industrial Plastics, Health & Safety Accessories, Storage Containers, Fixtures & Fittings, Electrical Components & Accessories etc.
Within two years of establishing Innoson Vehicles, the then Governor of Anambra State, Mr Peter Obi ordered for 1000 units of Innoson Vehicles which includes, Pick Ups, Buses and SUV's. The show of faith by Mr Peter Obi was the trigger Innoson needed to show the durability and capacity of the Made in Nigeria vehicle.
Today, the vehicles bought under the administration of Mr Peter Obi are still being used today by some traditional rulers, schools as well as security agencies proving the durability strength of Innoson vehicles.
Truth is that for 11yrs IVM has been in existence, there has never been a better last year.
Innoson Vehicles has been improving steadily on the quality of its Vehicles by ensuring it gets feedback from the users of Innoson Vehicles to know their views on their IVM experience and with these feedbacks it seek better ways to improve on the tastes and preferences of our customers to suit the environment.
For example, based on various feedbacks we got from our customers and users of our big vehicles we have improved on the clutch and brake systems, the engine capacity and the body structure of the bus.
Innoson Vehicles also improved on the interior décor and comfort by installing luxury seats, robust air-conditioning system and on board entertainment system. It also improved on the suspension system of its vehicle, transmission system and enhanced shock absorber.
On the smaller vehicles, like the small buses, SUV's, and Sedans, Innoson Vehicles improved on the fuel economy, the interior décor
of the vehicles and the engine output.
On the engine output, it went a step further to engage the best engine manufacturers in the world to produce its own IVM engines that are environment friendly. Today we can categorically state that IVM customized engines are the best for the Nigerian environment.
Feedbacks from the users of Innoson Vehicles attest to the durability and high standards of the vehicles.
Going forward, Innoson Vehicles is now migrating from manual production to a fully automated production plant.
The manual production plant has the capacity to produce about 10,000 vehicles annually but at the complete migration to a fully automated production plant, the plant will have the capacity to produce about 60,000 units annually.
Mission To Be A Giant Vehicle Manufacturing Company In Africa
Innoson Vehicles is on a mission to become a giant in Vehicle Manufacturing Company in Africa in other to serve Africa Vehicle needs by its current expansion efforts;
1. Innoson Vehicle Manufacturing Plant Naze Owerri Imo State.
Innoson Vehicles is currently setting up an automated manufacturing plant for production of Big buses and city buses at the Innoson Factory Expansion at Naze Owerri in Imo State. It has already acquired about 150,000sqm land for this project and construction works are ongoing.
2. Innoson Vehicle Manufacturing Plant Umuezena Umudim Nnewi, Anambra State.
Innoson Vehicles is currently building a vehicle manufacturing plant for the manufacture of heavy duty vehicles at Umuezeana Umudim Nnewi
3. Lion IVM Tractor Manufacturing Plant UNN
Currently Innoson in Partnership with University of Nigeria Nsukka is constructing a 20HP Agricultural Tractor Manufacturing Plant at the Lion Science park UNN. The tractor will be known as LION IVM.
4. Expansion Into African Markets.
Currently, Innoson Vehicles producing vehicles for the Sierra Leone Government and the company has concluded plans with the Sierra Leone Government to establish an assembly plant in Freetown. It has equally signed an MOU with Congo, Mali and Côte d'Ivoire for the establishment of an assembly plant for Innoson vehicles.
Working Relationship With Military
Innoson Vehicles is in partnership with the Nigerian Air Force for the development and promotion of joint activities to sustain the maintenance of the Nigerian Air Force Air Assets and other associated Aerospace Ground Equipment (AGE) to enable the Nigerian Air Force to continuously carry out its constitutional obligations to the Nation. Equally we are in collaboration with the Nigerian Army Authority for the manufacture and supply of Vehicles.
Innoson Vehicles Product Lines
Innoson Vehicles which started with the production of Buses and Pick-ups has grown to multiples product lines of vehicles which includes;
Sedans
1. Innoson Connect:
2. Innoson Caris:
MPV's
1. Innoson G20 Smart
2. Innoson Ikenga
3. Innoson Capa
SUV
1. Innoson G5T
2. Innoson G6T
3. Innoson G40
4. Innoson G80
BUSES
1. Innoson 5380: 7&10 Seater Buses
2. IVM Seriki: 14+1 seater capacity bus,
3. IVM 6540: This is high roof 17+1 seater capacity bus,
4. IVM 6601: This is a 23 seater capacity medium bus
5. IVM 6800: This is a 33 seater capacity mini luxury bus,
6. IVM 6875: This is 50 seater urban transit bus.
PICK-UP:
1. IVM Carrier 4WD:
2. IVM Granite 4WD
Special Purpose Vehicles Includes
Innoson Military Vehicles
Innoson Medical Ambulance
Innoson Garbage Compactors (Waste Disposal Vehicles):
Innoson Fire Trucks
For eleven years, Innoson Vehicles has proven its unique ability to supply durable, yet very affordable brand new vehicles and its successful record in delivering within short notice makes it a brand of choice.
The success stories of Innoson vehicles in this past eleven years has shown that Innoson Vehicles is not about the story of vehicle manufacturing plant, it is the story of Nigeria. It is the image of Nigeria. Innoson Vehicles is a reminder of the fact that whatever that is wrong with Nigeria can be corrected by what is right in Nigeria.
Cornel Osigwe
Head of Corporate Communications and Affairs
IVM Innoson Group