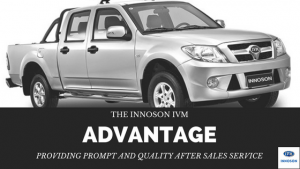 All Innoson motors come with a 1 years engine, axles and gear warranty or 10000km warranty
OUR COMMITMENT TO YOU
We will be by your side till the very end.
Upon purchase of any vehicle from Innoson Vehicle Manufacturing Co Ltd or any of its authorized dealers, we commit to be by your side by providing prompt and quality after sales service to you no matter your location. As the first indigenous vehicle manufacturing company in Nigeria, we have a unique advantage in that vehicle spare parts are readily available. We shall meet our commitment to you through:
The Innoson IVM Mobile Workshop: The Innoson IVM mobile workshop is an innovative mode we designed to provide prompt and quality after sales repair service to our customers.  The Innoson IVM Mobile Workshop is handled by highly qualified technicians and mechanics and can travel to any location to provide prompt and quality vehicle servicing to our customers and clients.
Innoson IVM Service Centers: The Service Centers are the authorized locations where the Innoson IVM Vehicles undergoes its services and other forms of maintenance schedules. The purchase of original equipment and parts of Innoson IVM cars can also be gotten from these service centers.
YOUR COMMITMENT TO US
IVM as a reputable company honours its warranty most especially to customers that commits to the following procedures;
i. Thoroughly read your warranty
ii. Report to any of our service/care centers whenever you notice any defects or faults
iii. Service your car at regular intervals: For the sake of keeping your warranty intact, follow the Innoson IVM                    recommended service schedule.
iv. All through the warranty period, do not visit any mechanic workshop other than Innoson IVM approved                         service centers
v. Keep all service records and receipts: This commitment serves as proof of maintenance of your vehicle with                     us.
vi. Have regular maintenance schedule of your vehicle with any of the Innoson IVM approved service centers. Do               not fail to come for regular servicing of your vehicle(s) when it is due for servicing.
vii. Services must be carried out within 2000 miles/one month of the intervals
Further more, the following infractions can void your warranty
i. Misuse of the vehicle: Using the vehicle for racing/competition of any type, overloading the vehicle or to off-                  road the vehicle or any other thing outside the normal operation of the vehicle can be considered misuse.
ii. Environmental damage: If your vehicle got damaged in a fire, flood, earthquake or any other environmental                 disaster, we may likely not honour our warranty to you.
iii. Altered odometer: If your car's odometer has been disconnected, tampered with or replaced, and a situation                  where we cannot determine the exact mileage. Your warranty could be voided.
iv. Specific Parts Neglect: inability to come for regular schedule servicing where necessary parts meant to be                        replaced are not replaced thereby causing damage to the car can cause us to void your warranty. If you fail to                take your vehicle in for service during its scheduled maintenance, we may not be responsible for repairing                     any damage to the engine.
v. Use of dirty or improper fluids can damage the engine. Always make sure you are using the correct fluids as                   outlined in your owner's manual.
In conclusion, if the above infractions are avoided and the commitments properly followed, we promise to be by your side till the very end.
To Purchase Innoson IVM cars and make further enquiries
Visit www.innosonvehicles.com or contact us via [email protected] or call- 08137075745, 08030889955.
Also we've partnered with Sterling bank to enable Nigerians own a car with ease. Through our IVM auto finance scheme, Nigerians can now own a car, drive home and pay as you go!
All our existing and future range of automobile brands are available through this auto finance scheme and we are not relenting in our efforts to partner with many more Nigerian banks.
So what are you waiting for?
1) Choose your preferred vehicle.
2) Walk into any Sterling Bank nationwide to open an account for auto finance processing.
3) Contact us for the pro forma invoice of your preferred vehicle after Sterling Bank account opening confirmation.
4) Pay the required 25% down payment and wait for your vehicle to be delivered to you wherever you are in Nigeria.
Call our IVM Auto Finance Hotlines Now:
08033562978, 08175812222 – Sterling Bank
08137075745, 08030889955 – Innoson Motors
Innoson……The Pride of African Roads