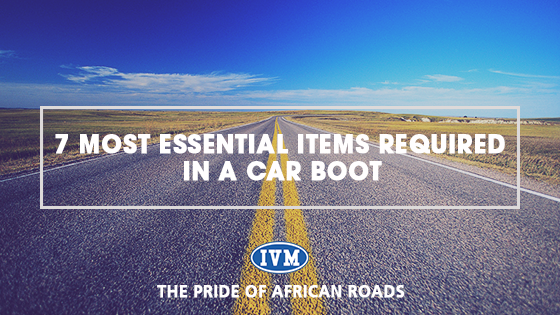 Life can be thrillingly unpredictable, but so can your car. As you set out on a journey you've made countless times before, you don't expect to break down, have an accident or become stranded. But it happens.
But with a little planning and a bit of boot space, you can put together an emergency safety pack for your car. You might never need to use it, but it's good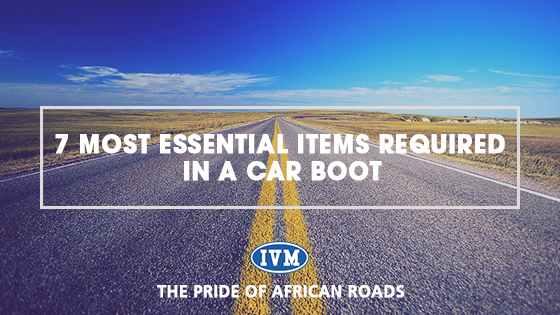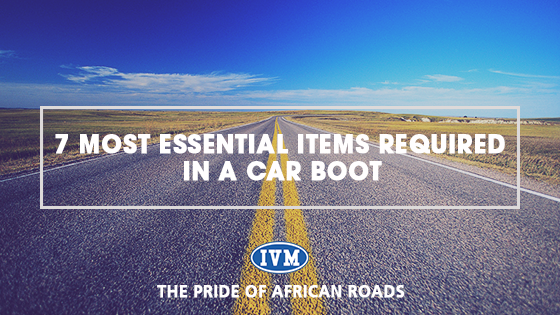 to know it's there, just in case. And if proper planning is not in place, the drivers (and passengers) involved are left woefully ill-equipped to cope in such situations.
Smart drivers keep a safety pack in their boot, so they're always prepared in case of emergency. Like the Scouts, the clever drivers are always prepared and part of being prepared is carrying a few essentials in your boot, just in case. Save inconvenience and unnecessary expense if you have a breakdown or emergency by ensuring you have these essential items in your car boot.
To prepare your car for travel in Nigeria, here are five of the most essential items you should carry in your boot to help you in the event that an emergency occurs.1.
1.Spare Tyre: Many drivers out there are guilty of having a spare tyre, using it, and then forgetting to replace it. And in an emergency, a tyre-shaped hole in your boot isn't much use. And as well as keeping a spare in your boot, knowing how to change it yourself is a good life skill to have. The reasoning behind this is simple: any flat tire on the road is going to strand you for some time if you are unable to change it yourself. Always have at least one spare tyre in the car.
 2. Road flares should be carried at all times. In the event that you have a breakdown, these flares can make it easier for others to spot your car and provide assistance. Hazard lights and similar items are required by many African countries for just that reason. You don't need to carry dozens of them at a time just make sure that you have a handful to light if your car strands you on the road.
3. First Aid Kit: Make sure that your car has a first aid kit in case there is a medical emergency on the road far from any hospital or clinic. Your First-Aid kit should contain gauze and bandages, antiseptic, any medicines that you or others routinely require, and so on. This has proven to be a lifesaving knowledge that has saved untold millions of people down through the years.
4. Hazard Warning Triangle: Few cars come with one as standard, but a hazard warning triangle might be a lifesaver if you break down on a blind bend. If your car doesn't have one, do buy one because it is very essential. And in a case of usage, the Highway Code suggests that you place it a minimum distance of 45 metres from your car.
5. Basic Tool Kit: Even if you're not exactly a natural with a wrench, hammer or screwdriver, having a tool kit in your car can come in useful if for those quick, relatively easy roadside fixes that don't require a professional.
6. Jumper Cables: This is also an essential need just in case your battery life suddenly goes down and cannot be able to start your car engine. Jumper cables save you the stress of looking for a battery charger technician to hire emergency battery to start your car, or looking for good Samaritans to help remove their battery and put into yours. With jumper cables, all you need is to fix in another car battery closer to you.
7.Fuel Can: If your tank has ever run dry and you've found yourself miles from the nearest petrol station, you'll know just how handy a fuel can is when you have to make that long, lonely trek to the garage. Just remember, it must be empty. Driving anywhere with a can of fuel in your car is a fire hazard.
Preparing your vehicle's boot for driving is not as difficult as you might think. Simply be aware of the sometimes hazardous road conditions, understand the wear that the African weather can sometimes inflict on a car, and plan accordingly. When you do, the driving experience on the Nigerian roads can be just as enjoyable as anywhere else in the world. Moreso, you would also be helping yourself and extending the longevity of your cars if you purchase any of the Innoson cars that are strongly built to withstand the harshest weather in Africa.
To Purchase Innoson IVM cars and make further enquiries
Visit www.innosonvehicles.com or contact us via sales@innosonvehicles.com or call- 08137075745, 08030889955.
Also we've partnered with Sterling bank to enable Nigerians own a car with ease. Through our IVM auto finance scheme, Nigerians can now own a car, drive home and pay as you go!
All our existing and future range of automobile brands are available through this auto finance scheme and we are not relenting in our efforts to partner with many more Nigerian banks.
So what are you waiting for?
1) Choose your preferred vehicle.
2) Walk into any Sterling Bank nationwide to open an account for auto finance processing.
3) Contact us for the pro forma invoice of your preferred vehicle after Sterling Bank account opening confirmation.
4) Pay the required 25% down payment and wait for your vehicle to be delivered to you wherever you are in Nigeria.
Call our IVM Auto Finance Hotlines Now:
08033562978, 08175812222 – Sterling Bank
08137075745, 08030889955 – Innoson Motors
Innoson……The Pride of African Roads